Welcome to Community Christian Fellowship!
We are a non-denominational, international collection of folks at various stages of their journey and you are sure to fit right in. If you have time to read Our Story, you will know that we are not your normal church. So come as you are and join us this Sunday.
15704 Highway 110 Lindale, Texas 75771
Our Mission
To encourage and strengthen families and individuals to become Imitators Of Christ through worship, prayer, discipleship and sharing God's love.
I believe that the Lord uses CCF as a safe place for people to come and evaluate their relationship with God. Our desire is that your walk with the Lord will become less complicated and that you will find simplicity in your love for Jesus and your service in His kingdom.  -David Hickey, Senior Pastor
Sunday Mornings
Refresh Hours Sunday School Classes 9:45am-10:45am
Main Worship Service 11:00am
Wednesday Nights
Youth 6:30pm-8:00pm (6:00 pm social time is open)
Awana 6:15pm-8:00pm
Life Groups meet throughout the week at different locations. Please ask.
Church Office Hours
Monday-Thursday
9:00-4:00pm
You Don't Have to Get All Gussied Up
Don't feel like you have to dress a certain way to fit it. When you start looking around you will see everything from suits to shorts, dresses to doo rags, and everything in between. We are more interested in who you are than what you are wearing. God looks at the heart and that's good enough for us.
Park on the Grass
If you are new to Texas, it's okay to park on the grass in a lot of places, and it's true here. When you come in the main entrance from Highway 110, just find a nice comfortable chunk of grass on the south side of the building, to park your car on while you come on in and join us.
You can enter in the double glass doors of the main entrance, which is just about the middle of the largest brown building. As you enter, the worship center is on your right.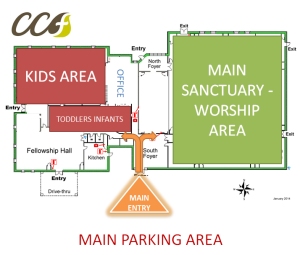 Got Questions?
You will be greeted by smiling East Texas faces and receive a warm welcome from folks on the hospitality team who are truly glad to see you. They will have name badges on, and when you see them, just tell them you are new and they will help you find your way around. If you have children, they can show you where to drop them off in our Kids' area, which we call the KidzZone, or you are welcome to keep them with you in the service.
Trust in the Lord with all your heart;do not depend on your own understanding. Seek his will in all you do, and he will show you which path to take.
Commit everything you do to the Lord. Trust him, and he will help you.
Fix your thoughts on what is true, and honorable, and right, and pure, and lovely, and admirable. Think about things that are excellent and worthy of praise.