At CCF Social Distancing Observed
Pastor David Hickey and Kevin Trigueiro highlight attendance protocols outlined by Texas Governor Abbott in early May. Please follow the Lord's direction and wisdom as we venture back into normal life.
Service Dogs Are Welcome
Although Churches are under no legal obligation to admit individuals with service animals into houses of worship because they is exempt from Title III of the Americans with Disabilities Act, Community Christian Fellowship's policy is that trained Service Dogs are welcome.
CCF is happy to ac

commodate visitors who have trained service dogs accompanying them, and it has done so many times. There will be no animals allowed except for service animals assisting an individual with a disability. True service dogs, per a provision of the American Disabilities Act (ADA), provide specific services to the disabled individual. Such s
ervice dogs continue to be welcome at CCF site with their owners.
While we certainly sympathize, guests who bring pets that act as ''comfort",' ''therapy",' or ''emotional support'" animals,
they do not meet the ADA definition of a service animal and are not permitted. These animals can be subjected to a busy and sometimes noisy environment, and they can become agitated and lead to behavior that poses a possible safety concern to our other guests.
Church attendance is a community activity, where all are welcome, including visitors and strangers, which means we may not know from week to week who will be present. In that environment, pet allergies, fear of animals (regardless of severity, source, or how well behaved any given animal has been in the past), and the fact that many animals do not do well with other animals in the same space, we must defer to the most considerate course of action and have you leave those pets at home. This ensures that all people have the best opportunity to feel safe and welcome at church.
Concealed Carry Of Firearms Is Permitted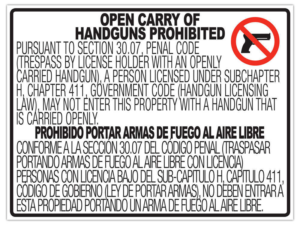 In 2016, Texas Governor Greg Abbott signed legislation that permits the open carry of handguns. While we support all Texans in their right to bear arms,
we have decided that allowing the open carry of a handgun would diminish the worship environment at Community Christian Fellowship. Therefore, we do not allow the open
carry of a handgun on our campus or in any of our buildings. We ask that all of our members and guests respect our decision and protect the worship environment we desire to promote.
We do have additional safety guidelines and precautions in place for church volunteers and workers, and you can contact us for further details.